OUR Canadian holiday is going to the dogs: real dogs — huskies and wolfdogs — in a quirky departure from the usual tourist trail through the Rockies.
We're in Canmore, a smart little place where you can ski, snowboard, hike, cycle, canoe, climb, camp, fish, cave, raft and, when you're thoroughly exhausted, take a short drive east to the Yamnuska Wolfdog Sanctuary.
Apart from Little Red Riding Hood, everything we know about wolves is from a movie, The Grey, in which Liam Neeson and his mates survive a plane crash in the Alaskan wilderness only to be stalked by ravenous wolves. It does not end well. So we're expecting wolfdogs — part dog and part wolf — to be pretty fierce.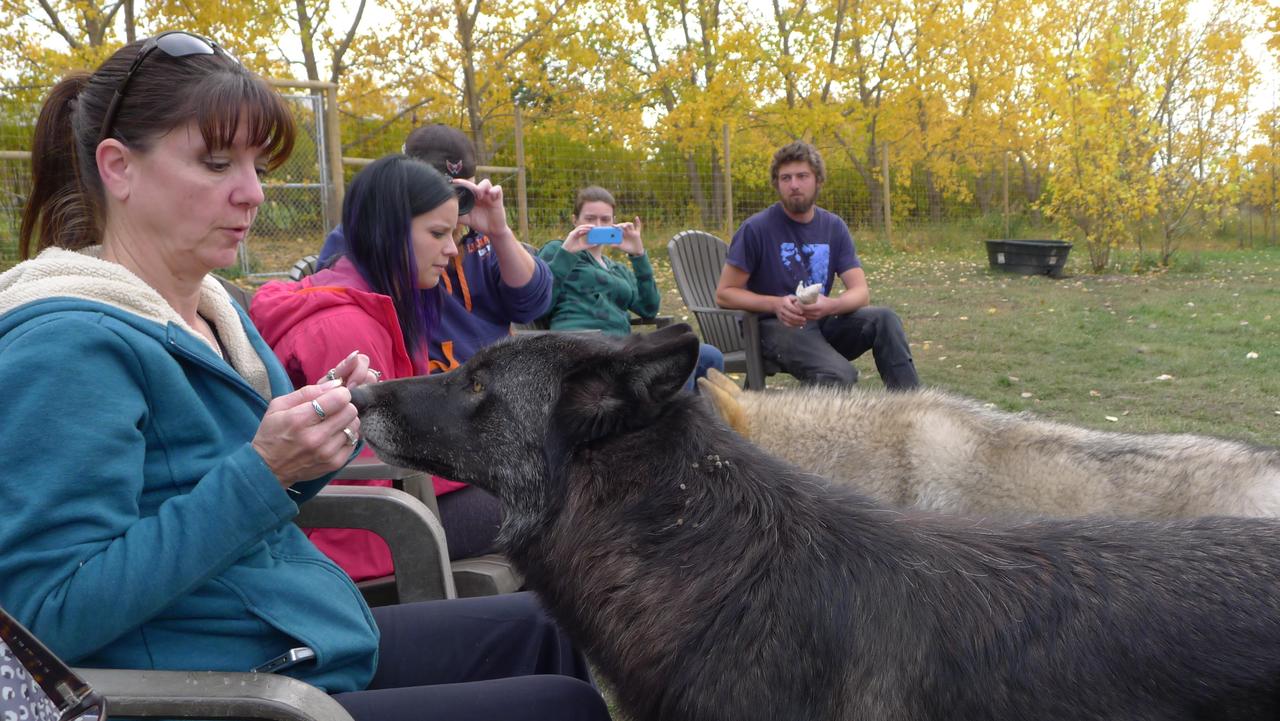 Fierce? Why, they're so damn fierce they run away at the mere sight of us. A soon as we enter their grassy enclosure we have to sit on a row of chairs, and stay sitting. If we as much as stand, they head for the far side of the paddock. These crossbreeds are so skittish they can be difficult — if not impossible — to train, which is why disappointed owners surrender them to the sanctuary.
"Wolfdogs range from almost all dog to almost pure wolf," our guide Forrest Hyslop says. "High-(wolf)-content (animals) look and act like wolves. They're timid and wary. Their brain is not set up to take orders from other species. People think if they get them young, they can train them. But you can't tune the survival instinct out of them."
The sanctuary's wolfdogs have been "socialised" enough to approach us while we're sitting and take a "treat" from our hands. They dart at the dried biscuits. One quick snap and it's gone. We count our fingers. The animals come and go, taking treats then backing off to eye us suspiciously, as Forrest explains the strange ways of wolfdogs.
He says the non-profit sanctuary manages to find homes for low-content wolfdogs and provides a permanent refuge for others. Without the sanctuary, unwanted wolfdogs would be put down.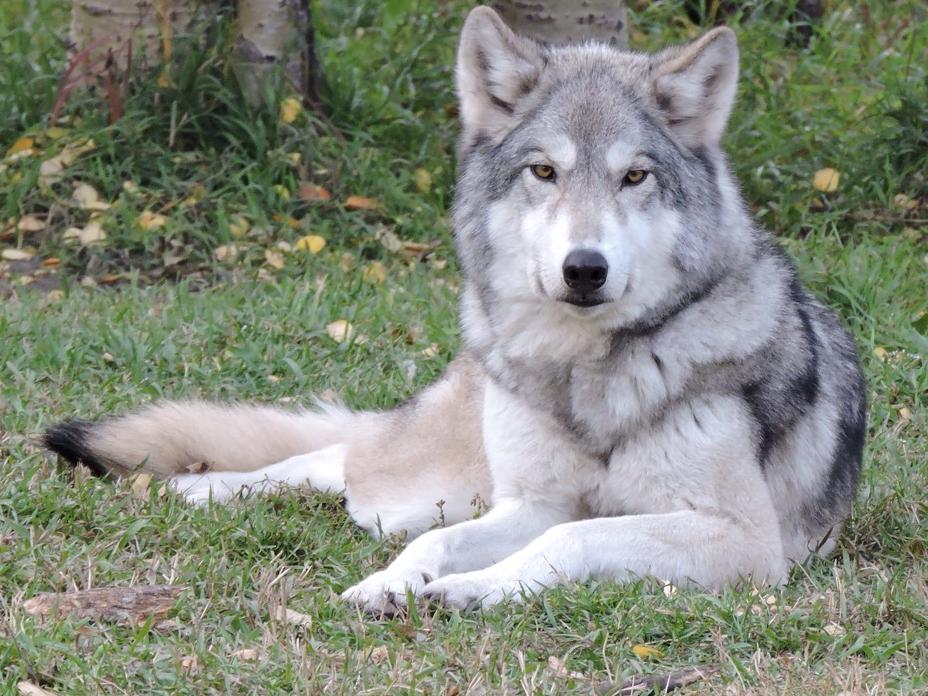 We escape that grim thought into mountains that are dark green with fir trees and speckled with the bright gold of autumnal poplars. We're on a nostalgic trip to paddle a canoe on the milky turquoise of Lake Louise, high in the Rockies, where we'd stayed many years before. The weather then was cold and wet, but now it's warm, and bright sunlight glances off the Victoria glacier above the lake as we take to the water.
An hour after returning our paddles we're back in Canmore hiking up a trail to the Grassi Lakes for the view across the Bow Valley to the Rockies as they retreat into the shadows of the setting sun. It's the warm-up for a planned hike the next day as part of a drive around the spectacular Kananaskis Wildlife Drive, 153km of lakes and mountains looping south of Canmore and back again.
Fortified by prairie elk burgers, Alberta game meatloaf, and bison and venison chilli from the local eateries, we had planned to do a four-hour hike along the Chester Lake Trail. But at the last minute we're advised by email that it's "closed … due to bear activity".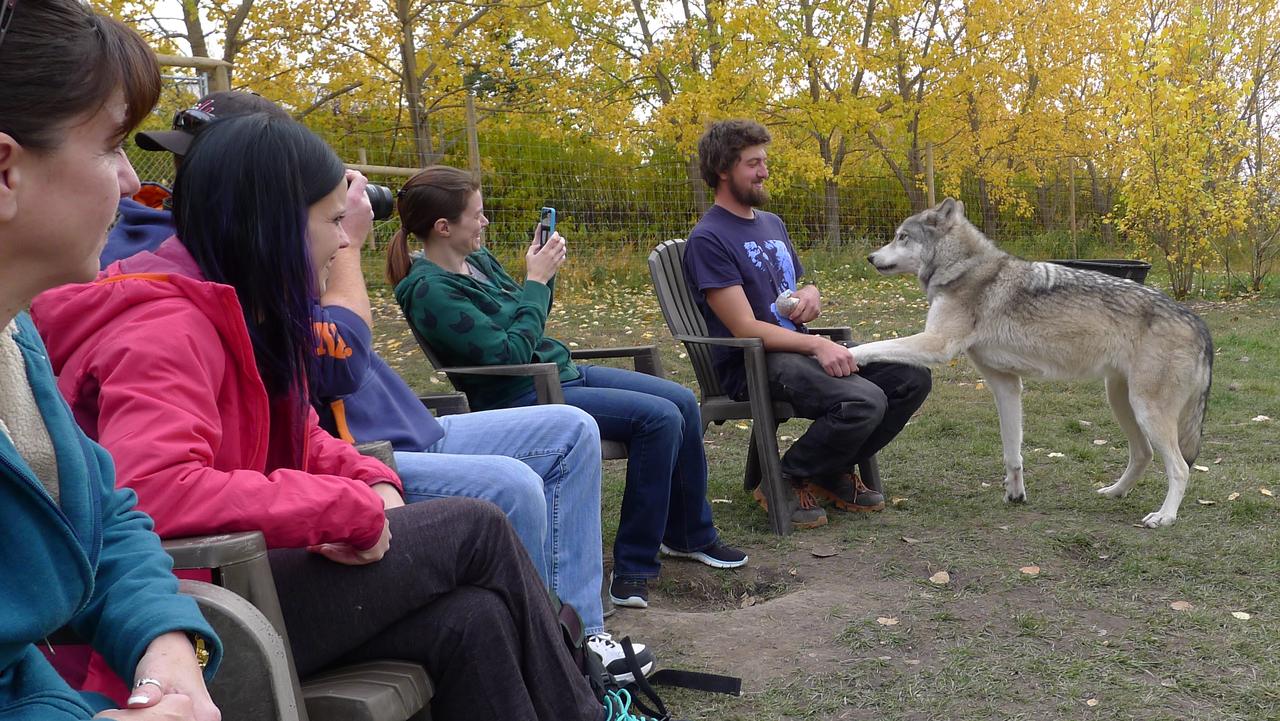 We'd earlier read in Canada's National Post that, "a sheep hunter escaped … after a grizzly bear attacked him in a remote area around Hinton, Alberta." Leaving aside the intriguing question of why anyone would hunt sheep — as opposed to, say, shearing them — what interested us was how the hunter escaped. "The hunter played dead and … the bear moved on."
Our Alberta itinerary says we should carry "bear spray" while hiking. We thought that might be a misprint. But no, when we check, it definitely means "bear", not "hair". When confronted by a bear, you're supposed to stand your ground and spray its face. Really? Confront a grizzly? You must be kidding!
Clearly, it's best simply to avoid bears altogether, and the locals tell us best way to do that is to make plenty of noise. Singing loudly while hiking is recommended, though there were no suggestions as to the most appropriate repertoire.
At the southern end of the loop we stop at the Peter Lougheed Visitor Centre which could easily pass for an upscale country club with its big leather chairs and open fireplace. The information desk tells us a bear has just moved on from the grassed area behind the centre. A very short hike sounds like the better part of valour.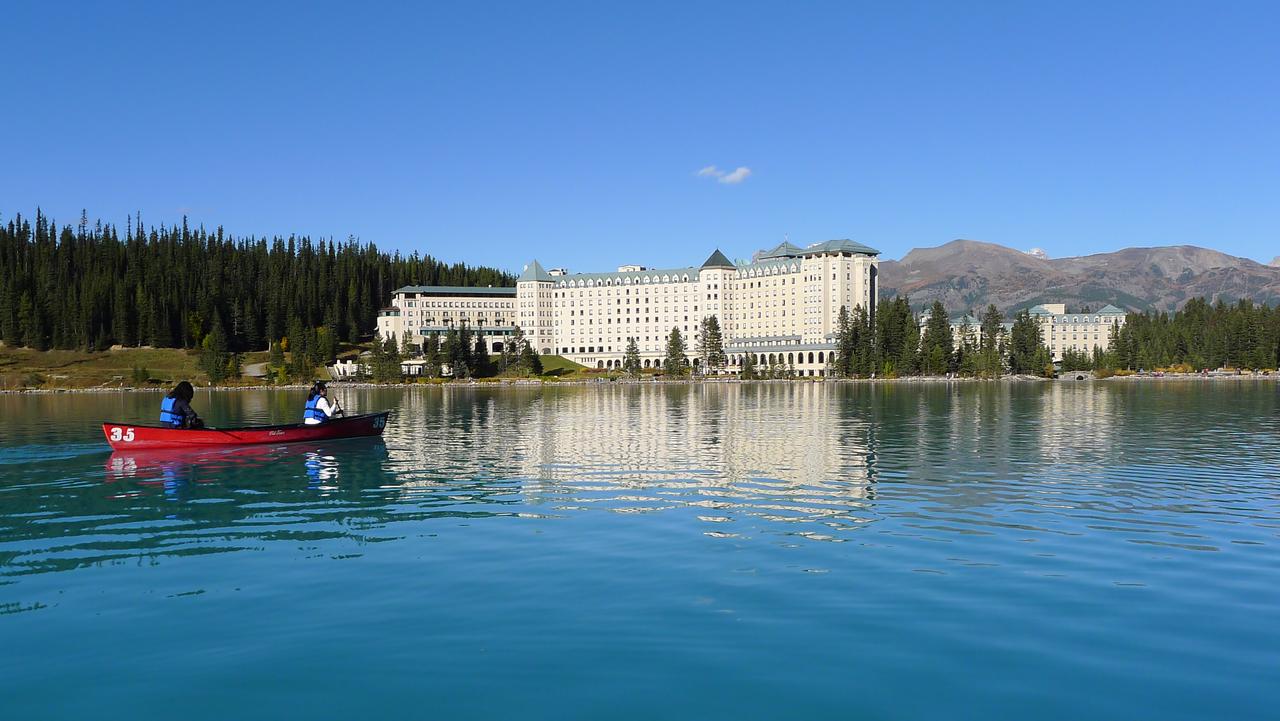 The centre suggests the Canadian Mount Everest Expedition Trail which, despite its imposing title, is just one kilometre up and another down. Singing Teddy Bear's Picnic and the theme from Playschool — "There's a bear in there …" and hoping there isn't — works a treat. There's no hint of bears as we enjoy a stunning view over the Kananaskis lakes which, we'd politely suggest, would be even more stunning with some judicious pruning of the trees at the top of the trail.
Don't be deterred because the western side of the drive is not sealed. It's dusty but smooth enough for practising your putting. (In Australia, it would qualify as a main road if not a highway.) And the views along the 15km length of Spray Lakes are not to be missed.
The other side of the loop is sealed and travels past clusters of yellowing poplars — like great banks of wattle — and road signs that warn of elk crossing before delivering us to Dead Mans Flats, just out of Canmore, home of Mad Dogs and Englishmen Expeditions' husky kennels.
The problem with being a husky is that the work is seasonal; when there's no snow, there's not much for a husky to do but hang around feeling overdressed. Russell Donald — the Englishman of Mad Dogs and Englishmen — has turned this into a plus, and offers year-round tours of his kennels.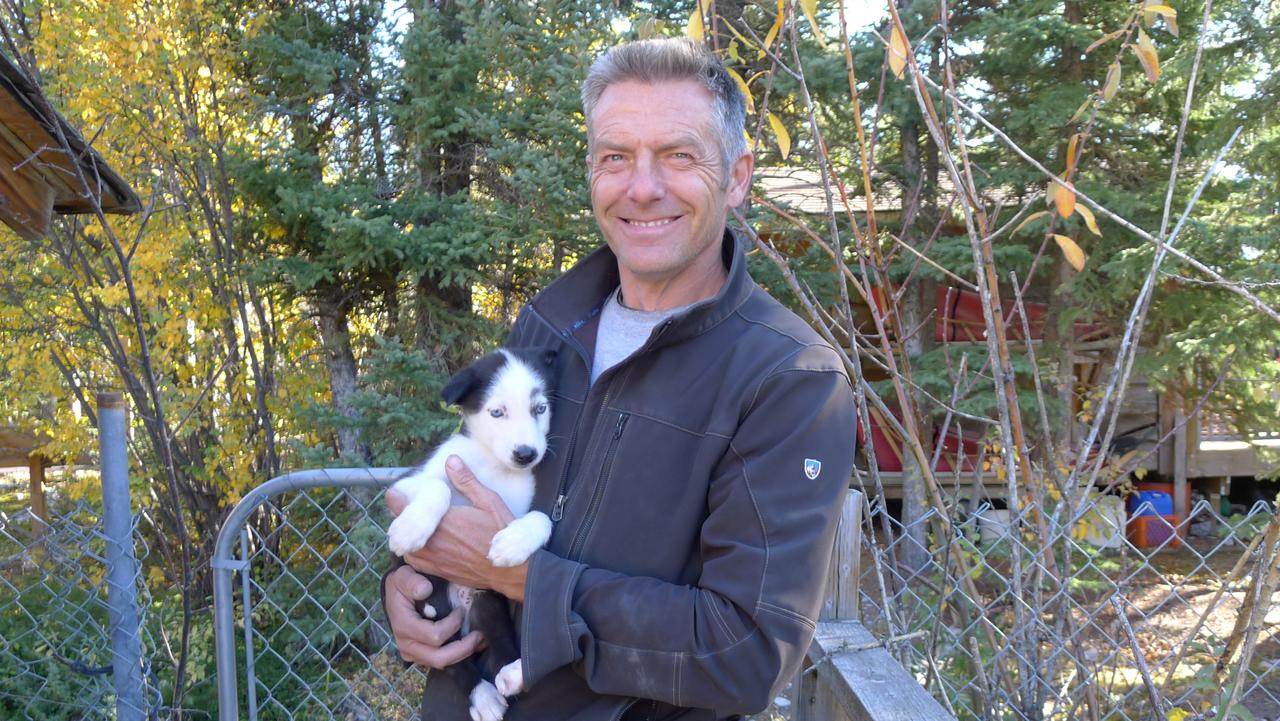 There's a short but informative discovery trail — which tells us vastly more about huskies than we ever thought there was to know — and then there are the dogs themselves, all 90 of them, barking and jumping with delight that we've turned up to break the boredom of yet another sunny autumn day.
But the pups are the big attraction, especially Vodka and her litter of eight. The black and white pups are sooo cute with their blue eyes and long snouts. Show them to children at your peril. "Kids can happily spend up to half an hour with them, and then it's like World War
II sometimes to get the puppies away from them," Russell says.
We know how they feel; we'd happily take "our" puppy back to Australia. What's the penalty for dognapping?
By: escape.com.au
Related Articles about Canada
Baffin Island and beyond: The part of Canada most tourists don't see