At the far north of New Zealand's South Island, visitors flock to the Nelson Tasman region to hike and kayak in spectacular Abel Tasman National Park. The turquoise waters and sheltered bays of this protected coastline are undeniably beautiful, but increased visitor numbers in New Zealand's smallest national park are putting pressure on infrastructure – particularly along the popular 60-kilometre Abel Tasman Coastal Track. Just beyond Abel Tasman's northern rocky headland, peaceful Golden Bay sees a fraction of the park's visitors.
It was here in 1642 that Europeans and Māori first came into contact. Abel Tasman sailed into the bay and cultural misunderstandings on both sides led to violence and the death of four Dutch sailors. Abel Tasman named it "Murderers Bay", but settlers during the nineteenth-century Gold Rush called it Golden Bay. In 2014, Golden Bay Mohua (Mohua is the original Māori name) was officially adopted.
It's a naturally sheltered bay, with plenty of sunshine hours. Tracee Neilson from nelsontasman.nz tells me over coffee: "It's a destination with spirit, soul and quirkiness rather than a place to visit […] Golden Bay is one of Nelson's, and New Zealand's, best kept secrets".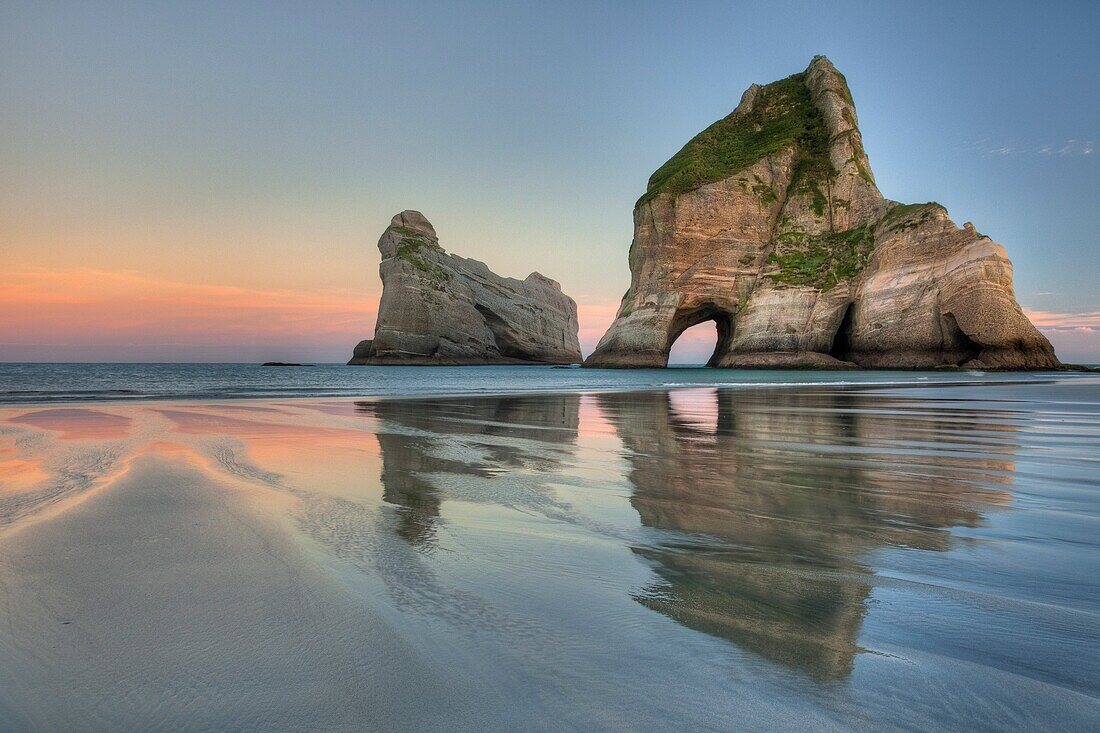 The road to Golden Bay
There's only one road in and out of Golden Bay, and it's a stunner. State Highway 60 skirts Abel Tasman National Park and traverses Takaka Hill, its steep hairpin turns taking you around 100km west of Nelson, but far from big city life.
The road is dotted with signposted lookouts where short trails lead to spectacular views over the karst limestone landscape, but it's not until you reach the hill's 791-metre summit that you catch sight of magnificent Golden Bay.
Just before the summit, a 12km unsealed road leads to Canaan Downs Scenic Reserve, a filming location for The Lord of the Rings (is there anywhere Peter Jackson didn't go?) and the site of summer festival, Luminate. From the car park, Harwood's Hole Track leads to a large sinkhole that's the deepest vertical shaft in New Zealand.
Once you're into Golden Bay, the road branches east to Pohara and the northern reaches of Abel Tasman National Park, or straight on to Takaka and the quieter town of Collingwood.
The best things to do in Golden Bay
Mellow Golden Bay has a bit (a lot) of an alternative vibe. Its isolation has fostered a counterculture centred on the hippie enclave of Takaka, plus there are some interesting off-grid satellite communities here too.
It might be laid-back, but there's plenty of things to do in Golden Bay, including hikes that are more 'proper tramping' than the relatively flat trails of Abel Tasman. The bay is the starting point for the famous Heaphy Track (pronounced heap-e), a 4–6 day trail that connects with the wild West Coast. You can also go horse-riding on Puponga Beach, kayak from Tata Beach, take a walk through native bush to Wainui Falls, visit art galleries and artists' studios and see the world's clearest springwater at sacred Te Waikoropupu Springs.
Mussel Inn is a much-loved bar and brewery (it describes itself as a "Kiwi woolshed/tramping hut meets Aussie farmhouse") halfway between Takaka and Collingwood. Live music nights here are the stuff of local legend. And for anyone interested in the history of early European settlers, kitsch Langford Store is a must-see (it's been open since 1928).
Farewell Spit Nature Reserve
Beyond Collingwood, the secluded crescent-shaped sandbank that curves around the top of Golden Bay is a nature reserve and wetland. Public access is limited to the first 4km of the spit, and beyond that, only Farewell Spit Eco Tours are allowed (they've been operating on the old mail route to the lighthouse since 1946). In the summer months, migratory birds arrive and you're likely to see shags, turnstones, pied oystercatchers, godwits, Caspian terns, white-fronted terns, Australasian gannets and banded dotterels, as well as seals basking in the sun. The 35km spit is wild and remote with rolling dunes and quick sand – the only way to tackle it is in a hardy 4WD.
I sit up front as we explore Farewell Spit and ask tour guide Paddy Gillooly what's so special about Golden Bay. He tells me, "It's hard to put your finger on it, but I see families returning to share it with their grandchildren. There's so much to do that costs nothing and it's a place to slow down. It's a bit like New Zealand used to be".
By: roughguides.com
Related Articles about New Zealand