Fiordland boasts a wide range of trekking and hiking opportunities, from a bundle of day hikes around Lake Te Anau and Manapouri to multi-day treks. The three most famous-known as New Zealand's "Great Walks"-are the Milford, Routeburn, and Kepler Tracks. To help you decided which you should tackle, read our list below.
1. Milford Track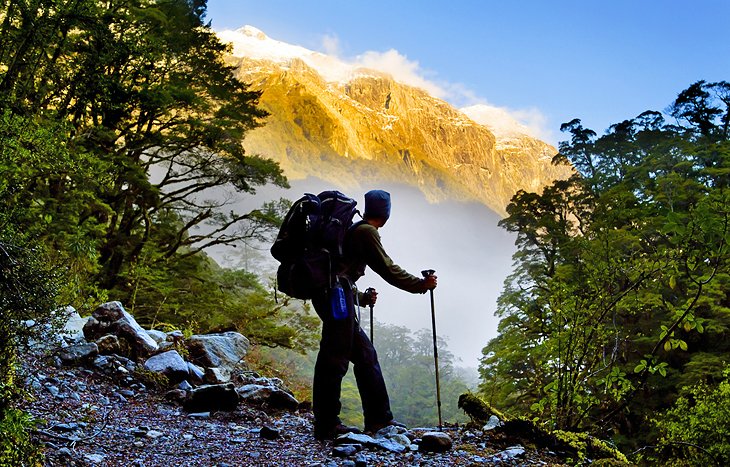 Trekking the phenomenally popular Milford Track is one of New Zealand's most awe-inspiring experiences and is said by many to be the finest walk in the world. The four-day trek covers 53.5 kilometers and retraces the footsteps of early explorers, heading out from near Te Anau, traversing the Mackinnon Pass, and then heading down to Sandfly Point on the remote Fiordland coast.
Along the way are stunning vistas of mountains, ice fields, lakes, waterfalls, and finally Milford Sound itself. Booking in advance is essential as only 40 independent hikers are allowed to start the track each day.
2. Routeburn Track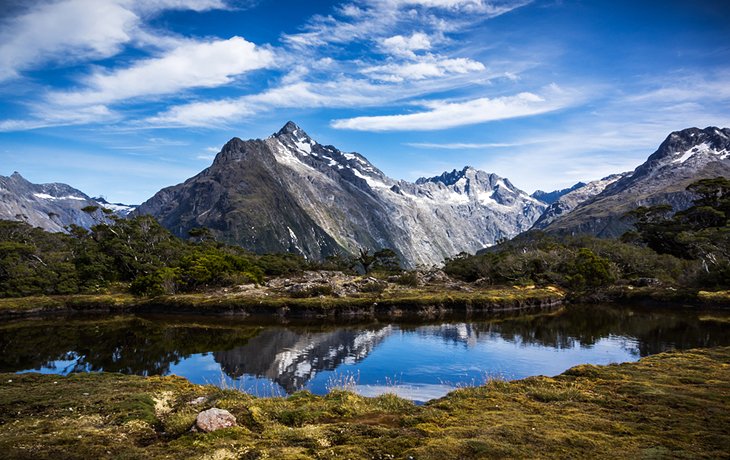 The Routeburn Track offers incredible alpine views and is the favorite option out of New Zealand's top "Great Walks" for anyone who wants a walking-at-the-top-of-the-world experience. The 32-kilometer trail takes two to four days and can be started from either the Fiordland trailhead on the Milford Road, or the Glenorchy Road trailhead near Queenstown. If choosing the latter, it's a magnificent way to enter Fiordland.
Along the way, the trail passes through meadows and alpine pastures, past waterfalls and traversing swing bridges, over gorges, and up into the mountain highlands with extensive vistas across the Southern Alps. All treks on the Routeburn need to be booked in advance as does transport to and from the trailheads.
3. Kepler Track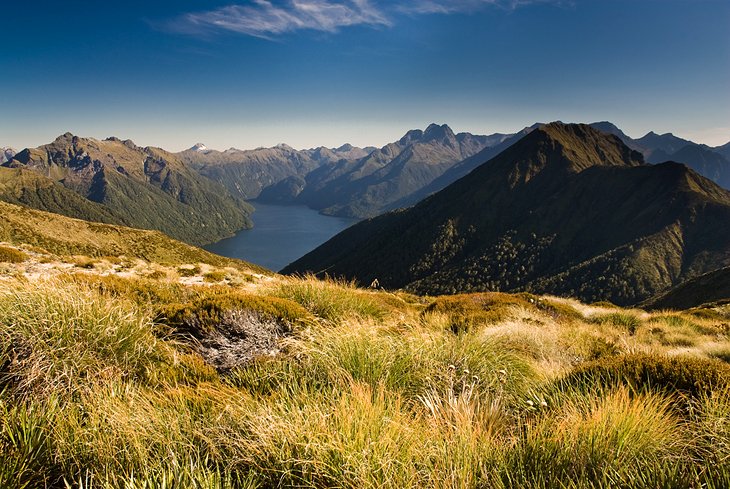 A showcase of the diverse scenery of Fiordland, the 60-kilometer-long Kepler Track is a three- to four-day loop within the Kepler Mountains between Lake Te Anau and Lake Manapouri. The trek heads through dense beech forests up to ridges with astounding views over the Te Anau Basin and mountain ranges behind, then down through podocarp forests to the secluded beach on Lake Manapouri's shore where it traverses wetlands.
The Kepler is a favorite hike for families as it's a less strenuous trek; it's also popular for those who enjoy camping. Like all the other "Great Walks," book well in advance.
Tips and Tactics: How to Get the Most Out of Your Visit to Fiordland National Park
When to Go: November to April (late spring to early autumn) is the best season for a Fiordland visit as there is a better chance of sunshine. All visitors should be aware, though, that Fiordland is the wettest place in New Zealand, and one of the wettest places in the world, with Milford Sound recording an average annual rainfall of between 1,200 and 800 millimeters. The weather is extremely changeable, and even during the height of summer torrential rain often hits the region.
Try to Avoid: Peak season is February (New Zealand's summer), and Te Anau township can be extremely busy during this month with accommodation solidly booked. Try to avoid this month or, book your accommodations well in advance.
Where to Stay: Te Anau is the main base for Fiordland National Park and has excellent accommodation facilities, ranging from campsites and basic hostels for budget travelers to comfortable midrange-style hotels and self-catering holiday cottages, as well as more luxurious lodges. Manapouri has less options.
Don't Forget to Bring: Wet weather gear is a must, even in summer.
Organizing Multi-Day Treks: All multi-day walking tracks are looked after by New Zealand's Department of Conservation (DOC), and most need to be booked in advance (for hut accommodation and sometimes transport) through DOC's website (www.doc.govt.nz). Be aware that the "Great Walks Season" runs from November to April and, as the weather is best for walking during this time, you need to plan as far in advance as possible to get a place. The walks are all open throughout the year, but due to adverse weather conditions from May to October (and the threat of flooding and avalanche), Fiordland's multi-day walks should only be attempted during this time by extremely experienced and well-prepared trekkers.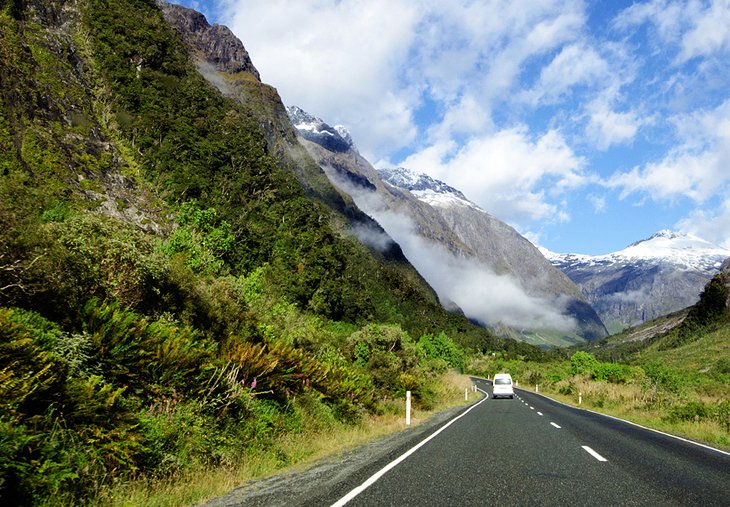 Location
The main base for the park is the small town of Te Anau, 171 kilometers southwest of Queenstown. Te Anau is fully geared up for tourists with accommodation options for all budgets and plenty of cafés and restaurants.
Getting Here
By Car: The drive from Queenstown to Te Anau along State Highway 6 and State Highway 94 takes around 2.5 hours and is extremely scenic.
By Bus: Daily public bus services run between Queenstown and Te Anau.
By Plane: During summer, three flights per week operate between Queenstown and Te Anau airport. The nearest big airports for flights to Auckland and Wellington are at Queenstown, Dunedin, and Invercargill.
By: planetware.com
Related Articles about New Zealand
Top Islands in New Zealand that Every Backpacker Has to Explore